Rekonstruksi Pendidikan Agama Islam bertema ibadah: wudhu' serta implementasinya pada aspek penilaian sikap
Abstract
Penelitian ini bertujuan untuk menganalisis Rekonstruksi Pendidikan Agama Islam Bertema Ibadah: Wudhu' serta Implementasinya pada Aspek Penilaian Sikap. Hal ini penting untuk dibahas agar memastikan ketercapaian suatu lembaga dalam mengimplementasikan pembelajaran kognitif kepada peserta didik pada pembelajaran afektif dalam kehidupan sehari-hari. Metode penelitian ini menggunakan penelitian kuantitatif deskriptif pasipatoris. Partisipan dari penelitian ini adalah tiga puluh orang siswa di SMP Ar Rafi' Drajat Bandung. Instrumen yang digunakan adalah kuesioner yang berjumlah sepuluh indikator dalam penilaian sikap. Kesimpulan Penelitian ini adalah (1) Profil Ketercapaian Indikator Penilaian Sikap menunjukkan hasil yang bervariasi dengan rata-rata capaian keseluruhan sebesar 2,76 dengan persentase 68,92% predikat Baik; (2) Indikator yang belum mencapai skor maksimum adalah indikator yang membahas tentang sikap saling menasihati dalam kebaikan-amar ma'ruf nahi munkar. Rekomendasi hasil penelitian ini perlu kajian mendalam tentang penggunaan hasil penilaian sikap sebagai Konsep Pendidikan Agama Islam Bertema Ibadah dan implementasinya kepada kehidupan sehari-hari dengan menggunakan instrumen yang lebih otentik.
Abstract
This study aims to analyze the Reconstruction of Islamic Education Themed Worship: Ablution 'and its Implementation on Aspects of Attitude Assessment. This is important to discuss to ensure the achievement of an institution in implementing cognitive learning to students on affective learning in everyday life. This research method uses descriptive passive quantitative research. The participants of this study were thirty students at Ar Rafi' Drajat Middle School Bandung. The instrument used was a questionnaire which amounted to ten indicators in attitude assessment. The conclusions of this study are (1) Profile of Achievement of Attitude Assessment Indicators shows varying results with an overall achievement of 2.76 with a percentage of 68.92% Good title; (2) Indicators that have not reached the maximum score are indicators that discuss the attitude of advising each other in the kindness of amar ma'ruf nahi munkar. Recommendations on the results of this study need an in-depth study of the use of attitudinal results as a Concept of Islamic Religious Education and their implementation in everyday life using more authentic instruments.
Keywords
Ibadah; karakter; sikap; Wudhu'
References
Berkowitz, M. W., & Hoppe, M. A. (2009). Character education and gifted children. High Ability Studies, 20(2), 131–142. https://doi.org/10.1080/13598130903358493
Emoto, M. (2007). The Miracle of Water: Mukjizat Air. Jakarta: Gramedia.
Kusnadi, D., Fattah, N., Husaini, A., & Ruhenda, R. (2018). Efektivitas Implementasi Kebijakan Penilaian Autentik pada Pembelajaran Pendidikan Agama Islam. Ta'dibuna: Jurnal Pendidikan Islam, 7(1), 20. https://doi.org/10.32832/tadibuna.v7i1.1348
Lickona, T. (2013). Educating for Character: Mendidik untuk Membentuk Karakter. Jakarta: Bumi Aksara.
Mubarok, A. Z. (2019). Model pendekatan pendidikan karakter di pesantren terpadu. Ta'dibuna: Jurnal Pendidikan Islam, 8(1), 134–145. https://doi.org/10.32832/tadibuna.v8i1.1680
Nawi, M. A. M., Jamsari, E. A., Hamzah, M. I., Sulaiman, A., & Umar, A. (2012). The impact of globalization on current islamic education. Australian Journal of Basic and Applied Sciences, 6(8), 74–78.
Pertiwi, C. S. R., Rochman, C., & Mansyur, A. S. (2019). Analisis Tantangan Ketercapaian Indikator Standar Penilaian. Halaqa: Islamic Education Journal, 3(1), 7-18–18. https://doi.org/10.21070/halaqa.v3i1.2018
Samani, M., & Hariyanto, M. S. (2012). Konsep dan model pendidikan karakter. Bandung: Remaja Rosdakarya.
Sudrajat, H. (2011). Pendidikan Akhlak Mulia. Bandung: Sekar Gambir Asri CV.
Syafri, U. A. (2018). Metodologi Pendidikan Akhlak dalam Perspektif Al-Qur'an. Ta'dibuna: Jurnal Pendidikan Islam, 1(2). https://doi.org/10.32832/tadibuna.v1i2.615
Walker, R. J. (2008). Twelve Characteristics of an Effective Teacher: A Longitudinal, Qualitative, Quasi-Research Study of In-service and Pre-service Teachers' Opinions. Educational Horizons, 87(1), 61–68. Retrieved from JSTOR.
Zubaedi. (2011). Desain Pendidikan Karakter: Konsepsi dan Aplikasinya dalam Lembaga Pendidikan. Jakarta: Kencana.
DOI:
http://dx.doi.org/10.32832/tadibuna.v8i2.1898
Article Metrics
Abstract view : 266 times
PDF - 143 times
Refbacks
There are currently no refbacks.
This work is licensed under a
Creative Commons Attribution-ShareAlike 4.0 International License
.
Lantai 1 Gedung Sekolah Pascasarjana Universitas Ibn Khaldun Bogor
Jl. K.H. Sholeh Iskandar km 2 Bogor 16162 Jawa Barat, Indonesia Telp/Fax: 0251-8335335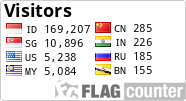 View My Stats