Teori pendidikan behavioristik pembentukan karakter masyarakat muslim dalam tradisi Ngejot di Bali
Abstract
Tulisan ini membahas tentang relevansi teori pendidikan behavioristik dalam tradisi ngejot di Kabupaten Jembrana Provinsi Bali. Tulisan berfokus untuk menjelaskan adakah relevansi teori pendidikan behavioristik terhadap pembentukan karakter melalui aktivitas Ngejot pada masyarakat Hindu dan Muslim di Jembrana. Sumber data diperoleh melalui observasi dan wawancara tak terstruktur selama bulan Maret sampai dengan Juli 2019. Tulisan menggunakan teori pendidikan behavioristik John Broadus Watson (1878-1958) dan mosaic analogy yang dikemukakan oleh Issac Baer Bekson (1891-1975. Tulisan memperlihatkan bahwa adanya relevansi positif antara teori pendidikan behavioristik yang pada kearifan lokal sehingga dapat membentuk watak masyarakat Hindu dan Muslim di Jembrana menjadi humanis, pluralis, dan toleran. Tulisan ini juga memperlihatkan bahwa untuk membentuk karakter dan watak masyarakat Hindu dan Muslim di Jembrana serta untuk menumbuh-kembangkan pemahaman kebinekaan, adalah melalui classical conditioning yang mewujud dorongan, rangsangan, reaksi, dan penguatan, sehingga melalui aktivitas ngejot tercipta lingkungan yang damai.
Abstract
This paper discusses the relevance of behavioristic education theory in the ngejot tradition in Jembrana Regency, Bali Province. The article focuses on explaining whether there is a relevance to the behaviorist behavior education theory for character building through Ngejot activities in Hindu and Muslim communities in Jembrana. Data sources were obtained through unstructured observations and interviews from March to July 2019. The writing used John Broadus Watson's behavioristic education theory (1878-1958) and the mosaic analogy proposed by Issac Baer Bekson (1891-1975). The writing shows that through educational theory behaviorism based on local wisdom can shape the character of Hindu and Muslim communities in Jembrana to be humanist, tolerant, and inclusive. This paper also shows that to shape the character and character of Hindu and Muslim communities in Jembrana and to foster understanding of diversity, is through classical conditioning which embodies encouragement, stimulation, reaction, and reinforcement, so that through boosting activities it creates a peaceful environment.
Keywords
Pendidikan; Behavioristik; Ngejot; Classical Conditioning
References
Alam, B. K. and Q. (2013). Local wisdom-based disaster recovery model in Indonesia. International Journal of Disaster Prevention and Management, 21(3), 351–369. https://doi.org/10.1108/09653561211234525
Anwar, C. (2017). Teori-Teori Pendidikan Klasik hingga Kontemporer (1st ed.; Y. Arifin, ed.). Yogyakarta: IRCiSoD.
Azra, A. (2002). Reposisi Hubungan Agama dan Negara: Merajut Kerukunan Antarumat (I. Thaha, ed.). Jakarta: Kompas.
Bailey, K. D. (1982). Methods of Social Research. New York: A Division of Macmillan Publishing Co. Inc.
Berliner, G. and. (1979). Educational Psychology (2nd ed.). Chicago: Rand Mc. Nally.
Dewantara, K. H. (1924). Karya Ki Hajar Dewantara. Bagian Pertama: Pendidikan. Yogyakarta: Penerbitan Taman Siswa.
Dwija, I. N. (2006). Revitalisasi Model Sosial Masyarakat Bali Berbasis Kearifan Lokal (Suciana, ed.). Denpasar: Universitas Udayana Press.
G, L. Y. S. G. and E. (1985). Naturalistic Inquiry. Newbury Park: SAGE.
Gunawan, A. H. (2010). Sosiologi Pendidikan: Suatu Analisis Sosiologi Tentang Pelbagai Problem Pendidikan. Bandung: PT. Rosdakarya.
Hubermen, M. M. dan M. (1992). Analisis data Kualitatif. Jakarta: Universitas Indonesia.
Merriam, S. B. (2009). Qualitative Research: A Guide to Design and Implementation. USA: The Jossey-Bass.
Mulyana, D. (2002). Metodologi Penelitian Kualitatif: Paradigma Baru Ilmu Komunikasi dan Ilmu Sosial Lainnya. Bandung: Remaja Rosdakarya.
Muthahhari, A. M. (2011). Dasar-dasar Epistemologi Pendidikan Islam (1st ed.; A. Subandi, ed.). Jakarta: Sadra International Institut.
Nasir, N. F. (1999). Integrasi dan Konflik dalam Adat Pertanian Masyarakat Aceh (I). Bandung: Gunung Djati Press.
Ridwan, N. A. (2017). Landasan Keilmuan Kearifan Lokal. Jurnal Studi Islam Dan Budaya Ibda, 5(1), 27–38.
Rodriguez, G. M. (2013). Power and Agency in Education: Exploring the Pedagogical Dimensions of Funds of Knowledge. Review of Research in Education, 37, 87–120.
Setiyadi, D. B. P. (2013). Discourse Analysis of Serat Klatidha: Javanese Cognition System and Local Wisdom. Asian Journal of Social Sciences & Humanities, 4(13), 292–300.
Sugiyono. (2010). Metode Penelitian Pendidikan: Pendekatan Kuantitatif, Kualitatif, dan R & D (11th ed.). Bandung: ALPABETA.
Sukmadinata, N. S. (2007). Metode Penelitian Pendidikan. Bandung: PT. Rosdakarya.
Sumiati, D. (2017). Intercultural Communication Based on Local Wisdom That Made the People of Bali Reject Sharia Tourism. Asian Journal of Media and Communication, 1(2), 137–146.
Suwardi Endraswara. (2010). Kearifan Lokal di Yogyakarta. Yogyakarta: Penelitian Pemda DIY.
Syah, M. (2009). Psikologi Belajar. Jakarta: Raja Grafindo Pustaka.
Watson, J. B. (1998). Behaviorism (7th ed.). New Jersey: New Brunswick.
Yin, R. K. (2018). Studi Kasus: Desain & Metode (15th ed.; M. D. Mudzakir, ed.). Depok: Rajawali Press.
DOI:
http://dx.doi.org/10.32832/tadibuna.v8i2.2233
Article Metrics
Abstract view : 6636 times
PDF - 5430 times
Refbacks
There are currently no refbacks.
This work is licensed under a
Creative Commons Attribution-ShareAlike 4.0 International License
.
Lantai 1 Gedung Sekolah Pascasarjana Universitas Ibn Khaldun Bogor
Jl. K.H. Sholeh Iskandar km 2 Bogor 16162 Jawa Barat, Indonesia Telp/Fax: 0251-8335335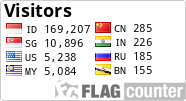 View My Stats