Indikator sikap karakter disiplin siswa berbasis hadis-hadis Bukhari dan hierarkinya menurut Wali Kelas SDIT di Jakarta
Abstract
The formation of disciplined character is one of the important aspects in primary education. This study aims to formulate attitude indicators taken from disciplined character education that is based on Bukhari ahâdîth and to explore the perceptions of homeroom teachers at SDIT in Jakarta on these attitude indicators. This research is a mixed study with a literature study approach and an analytic network process approach. The indicators of discipline character attitudes that are formulated are obeying, being responsible, not bullying, and being polite. The homeroom teachers have the opinion that the most significant variables as indicators, are obedience (0.33), responsibility (0.27), respect and courtesy (0.21), and not bullying (0.11).
Abstrak
Pembentukan karakter disiplin salah satu aspek penting dalam pendidikan dasar. Penelitian ini bertujuan untuk merumuskan indikator sikap hasil pendidikan karakter disiplin dari hadis-hadis Bukhari serta menggali persepsi wali kelas SDIT di Jakarta atas indikator sikap tersebut. Penelitian ini adalah penelitian campuran dengan pendekatan studi pustaka serta pendekatan analytic network process. Indikator sikap karakter disiplin yang terumuskan adalah taat, bertanggung jawab, tidak merundung dan bersikap santun. Para wali kelas berpendapat bahwa variabel yang paling signifikan sebagai indikator secara berturut-turut adalah sikap taat (0,33), bertanggung jawab (0,27), hormat dan santun (0,21) dan tidak merundung (0,11).
Keywords
pendidikan karakter: disiplin; pendidikan dasar; hadis
References
Al-'Asqalânî, A. (2003). Fathu Al-Bârî Syarhu Sahîh Al-Bukhârî. Dâr Al-Kutub Al-ʻIlmiyyah.
Al-Attas, M. N. (1980). Konsep Pendidikan dalam Islam: Suatu Rangka Pikir Pembinaan Filsafat Pendidikan Islam. Mizan.
Al-Azizi, N. Q. U. (2018). Kegiatan Ekstrakurikuler Kepramukaan Terhadap Pendidikan Karakter Kedisiplinan. Jurnal Pendidikan Luar Sekolah, 12(2), 40–50.
Al-Bukhari. (2014). Abdillāh Muhammad bnu Ismāīl. Syarikah Al-Qudsī.
Al-Nawawi, A. Z. (1994). Sahih Muslim Bisyarh Al-Nawawi. Mu'assasah Qartubî.
Amir, D. (2014). On Time and Discipline in Islam (Analysis towards Purpose of Islamic Education). At-Ta'lim. 21 (3), 220–226. https://doi.org/10.15548/jt.v21i3.107.
Eaude, T., Butt, G., Catling, S., & Vass, P. (2017). The future of the humanities in primary schools–reflections in troubled times. Education 3-13, 45(3), 386–395.
Elly, R. (2016). Hubungan kedisiplinan terhadap hasil belajar siswa kelas v di sd negeri 10 banda aceh. Jurnal Pesona Dasar, 3(4).
Furkan, N. (2014). The Implementation of Character Education through the School Culture in SMA Negeri 1 Dompu & SMA Negeri Kilo Dompu Regency. Journal of Literature, Languages & Linguistics, 3, 14-34,.
Ibn-Taimiyyah. (2004). Al-Siyasah Al-Syarʻiyyah. Dâr Ibn Hazm.
Jan, M. S. A., & Husain, S. (2015). Bullying in Elementary Schools: Its Causes and Effects on Students. Journal of Education and Practice, 6(19).
Kementerian Pendidikan dan Kebudayaan. (2017). https://www.kemdikbud.go.id/main/blog/2017/07/penguatan-pendidikan-karakter-jadi-pintu-masuk-pembenahan-pendidikan-nasional
Mantik, O. dan H. & J.C. (2017). The Effect of Scaffolded Think-Group-Share Learning on Indonesian Elementary Schooler Satisfaction and Learning Achievement in English Classes. International Electronic Journal of Elementary Education, 10(ue 2).
Massa, S. (2014). The Development of Critical Thinking in Primary School: The Role of Teachers' Beliefs. Procedia – Social and Behavioral Sciences, 141, 387-392,. https://doi.org/10.1016/j.sbspro.2014.05.068.
Muslim, Al-N. (2010). Sahîh Muslim. Dâr bnu Hazm.
Rodenas, F. & al. (2014). Education and Training for Parents Today, Discipline and Wellbeing for Children Tomorrow. Procedia – Social and Behavioral Sciences, 116. https://doi.org/10.1016/j.sbspro.2014.01.553.
Saaty, T. L. (2008). The analytic hierarchy and analytic network measurement processes: Application to decision under risk. European Journal of Pure and Applied Mathematics, 1(No. 1), 122-123-179,.
Salehi, S., Patel, A., Taghavi, M., & Pooravari, M. (2016). Primary School Teachers and Parents Perception of Peer Bullying Among Children in Iran: A Qualitative Study. Iranian Journal of Psychiatry and Behavioral Sciences, 10(3), e1865. https://doi.org/10.17795/ijpbs-1865
Sanny, L. (2018). Business Strategy Selection Using SWOT analysis with ANP and Fuzzy TOPSIS for improving competittive Advantage. Pertanika Journal of Social Sciences and Humanity, 26(No. 2), 1143-1158,.
Santos, A. I. (2015). Between Preschool and Primary Education – Reading and Writing from the Perspective of Preschool and Primary Teachers. International Education Studies, 8(11). https://doi.org/10.5539/ies.v8n11p211.
Stapp, A. C., & Karr, J. K. (2018). Effect of Recess on Fifth Grade Students' Time-On-task in an Elementarya Classroom. International Electronic Journal of Elementary Education, 10(ue 4), 449-456,. https://doi.org/10.26822/iejee.2018438135.
Susanti, R. (2013). Penerapan Pendidikan Karakter di Kalangan Mahasiswa. In Jurnal At-Ta'lim, 1(6), 480–484. https://doi.org/10.15548/jt.v20i3.46.
Tafsir, A. (2003). Hadis Tarbawi. Tarbiyah Press.
ʻUlwân, A. N. (1992). Tarbiyah Al-Awlâd Al-Islâmi. Dâr Al-Salâm.
Upton, P. (2011). Developmental Psychology (1st edition). Learning Matters.
Utami, S. W. (2019). Penerapan Pendidikan Karakter Melalui Kegiatan Kedisiplinan Siswa. Jurnal Pendidikan, 4(1), 63–66. https://doi.org/10.26740/jp.v4n1.p63-66
Winskel, H., L, W., & Tran. (2014). Discipline Strategies of Vietnamese and Australian Mothers for in Regulating Children's Behaviour. Pertanika Journal Social Sciences & Humanities, 22(2).
Yasmin, F. L. (2016). Hubungan Disiplin dengan Tanggung Jawab Belajar Siswa. Jurnal Pendidikan: Teori, Penelitian dan Pengembangan, 1(4).
Yasyakur, M. (2016). Strategi Guru Pendidikan Agama Islam dalam Menanamkan Kedisiplinan Beribadah Sholat Lima Waktu. Edukasi Islami Jurnal Pendidikan Islam, 5, 1185–1230.
DOI:
http://dx.doi.org/10.32832/tadibuna.v10i3.5523
Article Metrics
Abstract view : 635 times
PDF - 172 times
Refbacks
There are currently no refbacks.
This work is licensed under a
Creative Commons Attribution-ShareAlike 4.0 International License
.
Lantai 1 Gedung Sekolah Pascasarjana Universitas Ibn Khaldun Bogor
Jl. K.H. Sholeh Iskandar km 2 Bogor 16162 Jawa Barat, Indonesia Telp/Fax: 0251-8335335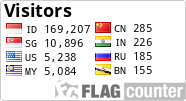 View My Stats