ANALISIS KINERJA GASIFIER UNGGUN TETAP ALIRAN KE BAWAH MENGGUNAKAN UMPAN KAYU UNTUK MESIN PEMBANGKIT LISTRIK TENAGA GAS
Abstract
PERFORMANCE ANALYSIS OF FIXED BED GASIFIER USING FLOW DOWN PINE
CHIPWOOD FOR GAS ENGINE POWER GENERATION. In recent years energy resources dwindling oil so it is necessary to replace it with renewable energy sources. Biomass is one of the renewable energy sources which has gasification technology, in which these technologies can transform wood into gas fuel (syngas).
The research methodology is how to design and manufacture of; gasifier, cyclone and wet scrubber based on the needs of the gas engine performance. The apparatus for wood analysis by using Thermal Conductivity Detection (TCD) and Firing Ionization Detection (FID) to get the calorific value, proximate (containing of; moisture, ash, volatile matter and fixed carbon) and ultimate
(containing of; carbon, hydrogen, nitrogen and oxygen) in the wood. Gas chromatography analyser is used to determine the syngas chemical composition and Thermocouple K-type (National Instrument) is used to obtain temperature distribution.
From the test results in the data obtained in the temperature distribution in the drying zone of the gasifier at 41ºC, pyrolysis zone at 98 ºC, oxidation zone at 970 ºC and reduction zones at 63 ºC. Meanwhile, syngas temperature in the cyclone outlet is 36,8 ºC and in the wet scrubber outlet is 35,96ºC. Syngas chemical composition generated output gasifier as follows; CO=29,3%, H2=5,6%, CH4=1,03%, CO2=1,33%, and N2=47,35%, meanwhile on the output side of the cyclone; CO=28,05%, H2=4,15%, CH4= 0,44%, CO2= 1,39%, and N2= 49,61% and on the output side of the wet scrubber; CO= 25,63%, H2= 4,49% , CH4= 0,80%, CO2=1,72%, and N2= 51,01%.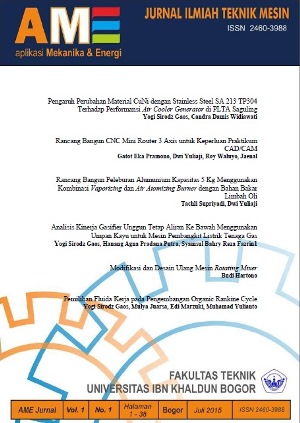 Downloads
How to Cite
Gaos, Y. S., Putra, H. A. P., & Bahry, S. (2015). ANALISIS KINERJA GASIFIER UNGGUN TETAP ALIRAN KE BAWAH MENGGUNAKAN UMPAN KAYU UNTUK MESIN PEMBANGKIT LISTRIK TENAGA GAS. AME (Aplikasi Mekanika Dan Energi): Jurnal Ilmiah Teknik Mesin, 1(1), 19–22. https://doi.org/10.32832/ame.v1i1.104
License
Penulis yang menerbitkan dengan jurnal ini setuju pada persyaratan berikut ini:
Penulis menyimpan hak cipta dan memberikan jurnal hak penerbitan pertama, dengan pekerjaan [TENTUKAN PERIODE WAKTU] setelah penerbitan secara simultan dengan lisensi di bawah:Creative Commons Attribution License yang memudahkan yang lain untuk berbagi karya dengan pengakuan penerbitan awal dan kepenulisan karya di jurnal ini.
Penulis bisa memasukkan ke dalam penyusunan kontraktual tambahan terpisah untuk distribusi non-ekslusif versi kaya terbitan jurnal (contoh: mempostingnya ke repositori institusional atau menerbitkannya dalam sebuah buku), dengan pengakuan penerbitan awalnya di jurnal ini.
Penulis diizinkan dan didorong untuk mem-posting karya mereka online (contoh: di repositori institusional atau di website mereka) sebelum dan selama proses penyerahan, karena dapat mengarahkan ke pertukaran produktif, seperti halnya sitiran yang lebih awal dan lebih hebat dari karya yang diterbitkan. (Lihat Efek Akses Terbuka).