STUDI EKSPERIMENTAL PENDINGIN PASIF LAMPU LIGHT EMITTING DIODE UNTUK APLIKASI FOTOGRAFI
Abstract
Energy is all around us in a very clear shape and utilization. Along with the changing times, the energy is being intensively investigated with the intention to do enhancement to optimize an effective and efficient energy source. Light Emiting Diode (LED), which is one of the electronic component, is not foreign in human life. LEDs are now widely used, such as in children's toys, traffic signs, the indicator light for the electronic equipment industry as well as photography. SMD 3528 LED strip light is a type of LED that is most widely used today. In addition to its relatively small dimensions is also due to the low electrical power consumption. In the world of photography, lighting sources is absolute existence. This study was conducted to determine the characteristics of LED Strip lights SMD 3528 with passive cooling for photographic purposes. From the experimental results, it was obtained the greater input power of is given, the value of the points that were tested was greater. Among other things, LED temperature, the temperature of the middle heat sink, the heat-sink and the outside air (ambient) and the resulting brightness. Material and cross-sectional area and shape of the heat sink greatly affected the absorption and release of heat that occurs on passive cooling.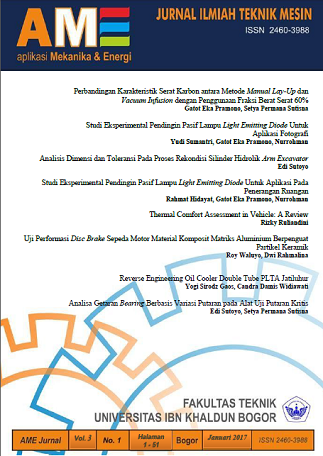 Downloads
How to Cite
Sumantri, Y., Pramono, G. E., & Nurrohman, N. (2017). STUDI EKSPERIMENTAL PENDINGIN PASIF LAMPU LIGHT EMITTING DIODE UNTUK APLIKASI FOTOGRAFI. AME (Aplikasi Mekanika Dan Energi): Jurnal Ilmiah Teknik Mesin, 3(1), 7–12. https://doi.org/10.32832/ame.v3i1.458
License
Penulis yang menerbitkan dengan jurnal ini setuju pada persyaratan berikut ini:
Penulis menyimpan hak cipta dan memberikan jurnal hak penerbitan pertama, dengan pekerjaan [TENTUKAN PERIODE WAKTU] setelah penerbitan secara simultan dengan lisensi di bawah:Creative Commons Attribution License yang memudahkan yang lain untuk berbagi karya dengan pengakuan penerbitan awal dan kepenulisan karya di jurnal ini.
Penulis bisa memasukkan ke dalam penyusunan kontraktual tambahan terpisah untuk distribusi non-ekslusif versi kaya terbitan jurnal (contoh: mempostingnya ke repositori institusional atau menerbitkannya dalam sebuah buku), dengan pengakuan penerbitan awalnya di jurnal ini.
Penulis diizinkan dan didorong untuk mem-posting karya mereka online (contoh: di repositori institusional atau di website mereka) sebelum dan selama proses penyerahan, karena dapat mengarahkan ke pertukaran produktif, seperti halnya sitiran yang lebih awal dan lebih hebat dari karya yang diterbitkan. (Lihat Efek Akses Terbuka).