ANALISIS DIMENSI DAN TOLERANSI PADA PROSES REKONDISI SILINDER HIDROLIK ARM EXCAVATOR
Abstract
Hydraulic Excavator PC1250 is one of the heavy equipment that is widely used to transport mining materials, stone, forest products, and the other. Arm PC1250 hydraulic cylinder is a component that functions in hydarulic excavator arm moves. Arm cylinder damage occurs after reaching 3346 hours of operating hours should be reach 6000 hours. This situation requires the cylinder repaired/reconditioned. The reconditioning process is done in PT "X", the dimensions of the components of the cylinder are analyzed in order to be adopted and the resulting cylinder can operate up to 6000 hours. In this study, the authors conducted an analysis on the direction of the radial and axial piston to locate critical features. The steps are performed on this analysis are data collecting field conditions, operational data collecting, measurement and checking of the existing dimensions, litelature study, analysis of the dimensions and tolerances. The results of this study obtained some critical features to the radial direction of the piston as the diameter of the piston ring groove wall worth
mm (existing diameter is 248 mm), the diameter of the piston seal groove wall worth
mm (existing diameter is 248.95 mm). Features critical to the long axial direction of the piston is a piston 2 is worth 117.5±0.05 mm, and the length cushion ring worth 100.3±0.05 mm (existing length 100mm). The results is it can be concluded that there are several dimensions to the adjustment piston radial direction, and at axial direction, the adjustment is only does at the length of cushion ring.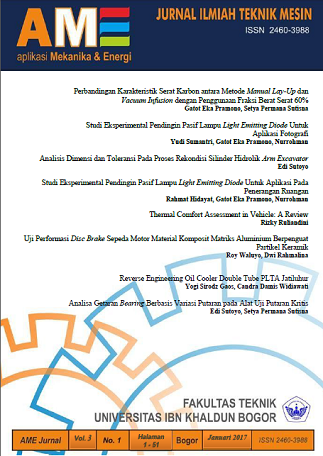 Downloads
How to Cite
sutoyo, edi. (2017). ANALISIS DIMENSI DAN TOLERANSI PADA PROSES REKONDISI SILINDER HIDROLIK ARM EXCAVATOR. AME (Aplikasi Mekanika Dan Energi): Jurnal Ilmiah Teknik Mesin, 3(1), 13–21. https://doi.org/10.32832/ame.v3i1.459
License
Penulis yang menerbitkan dengan jurnal ini setuju pada persyaratan berikut ini:
Penulis menyimpan hak cipta dan memberikan jurnal hak penerbitan pertama, dengan pekerjaan [TENTUKAN PERIODE WAKTU] setelah penerbitan secara simultan dengan lisensi di bawah:Creative Commons Attribution License yang memudahkan yang lain untuk berbagi karya dengan pengakuan penerbitan awal dan kepenulisan karya di jurnal ini.
Penulis bisa memasukkan ke dalam penyusunan kontraktual tambahan terpisah untuk distribusi non-ekslusif versi kaya terbitan jurnal (contoh: mempostingnya ke repositori institusional atau menerbitkannya dalam sebuah buku), dengan pengakuan penerbitan awalnya di jurnal ini.
Penulis diizinkan dan didorong untuk mem-posting karya mereka online (contoh: di repositori institusional atau di website mereka) sebelum dan selama proses penyerahan, karena dapat mengarahkan ke pertukaran produktif, seperti halnya sitiran yang lebih awal dan lebih hebat dari karya yang diterbitkan. (Lihat Efek Akses Terbuka).