REVERSE ENGINEERING OIL COOLER DOUBLE TUBE PLTA JATILUHUR
Abstract
Double tube heat exchanger is one of the modifications of shell and tube, which use as transformer cooler in power plant system AT PLTA Jatiluhur, Purwakarta, Jawa Barat. It has double tube, the outer contacts with the oil and the inside one contacts with water as cooling medium. One of the benefits of this type can reduce explosion risk of the transformer, because the warning system will be on when there is leakage at inside tube, so water and oil will not mix. But this type needs cost more expensive than the single one. ,
Design optimization was using reverse engineering. The dimensions are 339.6 mm inner shell diameter, outer tube dimension 15mmOD, 1mmThickness, 2208mmLength, inside tube dimension 13mmOD, 1.2mmThickness, 2208mmLength, and 124 pcs in each. The performance tests of the reverse engineering at 23.23 MW were; 27.4oC/31oC water in/out, 41.5oC/38.8oC oil in/out, oil flow rate 2.92 kg/s, 10.94oC log mean temperature difference, and temperature work of transformer 41.1oC. Using reverse engineering the work temperature of transformer at 28 MW was 60oC when using original equipment the work temperature of transformer at 26 MW was 80oC. Design of reverse engineering increased cooling capacity 16% and only 71.43% from OEM.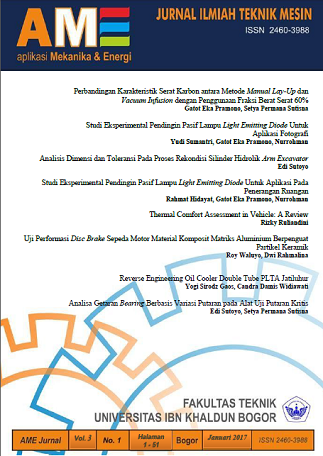 Downloads
How to Cite
Gaos, Y. S., & Damis Widiawati, C. (2017). REVERSE ENGINEERING OIL COOLER DOUBLE TUBE PLTA JATILUHUR. AME (Aplikasi Mekanika Dan Energi): Jurnal Ilmiah Teknik Mesin, 3(1), 41–44. https://doi.org/10.32832/ame.v3i1.463
License
Penulis yang menerbitkan dengan jurnal ini setuju pada persyaratan berikut ini:
Penulis menyimpan hak cipta dan memberikan jurnal hak penerbitan pertama, dengan pekerjaan [TENTUKAN PERIODE WAKTU] setelah penerbitan secara simultan dengan lisensi di bawah:Creative Commons Attribution License yang memudahkan yang lain untuk berbagi karya dengan pengakuan penerbitan awal dan kepenulisan karya di jurnal ini.
Penulis bisa memasukkan ke dalam penyusunan kontraktual tambahan terpisah untuk distribusi non-ekslusif versi kaya terbitan jurnal (contoh: mempostingnya ke repositori institusional atau menerbitkannya dalam sebuah buku), dengan pengakuan penerbitan awalnya di jurnal ini.
Penulis diizinkan dan didorong untuk mem-posting karya mereka online (contoh: di repositori institusional atau di website mereka) sebelum dan selama proses penyerahan, karena dapat mengarahkan ke pertukaran produktif, seperti halnya sitiran yang lebih awal dan lebih hebat dari karya yang diterbitkan. (Lihat Efek Akses Terbuka).