ANALISA PRESSURE DROP DENGAN PENAMBAHAN ZAT ADITIF CAIRAN COOLANT PADA PIPA SILINDER MENGGUNAKAN METODE EMPIRIS DAN METODE EKSPERIMEN
Abstract
The flow of fluid through the pipe creates fluid friction with pipe walls causing pressure drop and fluid flow velocity affecting the use of energy to drain it. Pressure drop can be affected by several factors such as friction or friction factor, pipe length, pipe diameter and fluid velocity. In this research, it will analyze pressure drop on piping system based on friction, fluid flow characteristics, and fluid velocity. The analysis was done by using two methods, namely experimental method and empirical calculation method. The stages of this study consist of problem analysis, literature study, calibration, data retrieval, empirical data processing and experiments, validation, analysis of results and conclusions. Based on the results of empirical and experimental research, the lowest pressure drop in the experiment and empirical was the 12 LPM discharge copper pipe and the water coolant ratio is 0: 100. This means that the best material pipes used were copper pipes rather than steel and galvanized pipes. The results of the tests and experiments have been tested for validation. The validation value of empirical and experimental data measurement is 91%.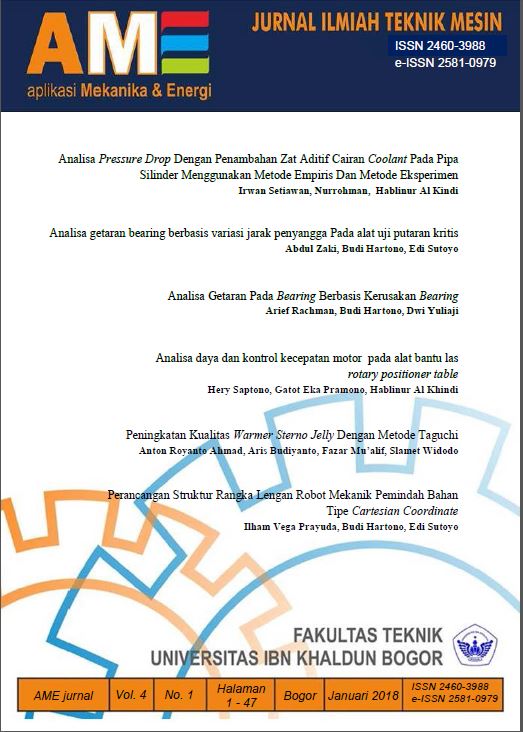 Downloads
How to Cite
Setiawan, I., Nurrohman, N., & Al Kindi, H. (2018). ANALISA PRESSURE DROP DENGAN PENAMBAHAN ZAT ADITIF CAIRAN COOLANT PADA PIPA SILINDER MENGGUNAKAN METODE EMPIRIS DAN METODE EKSPERIMEN. AME (Aplikasi Mekanika Dan Energi): Jurnal Ilmiah Teknik Mesin, 4(1), 1–8. https://doi.org/10.32832/ame.v4i1.985
License
Penulis yang menerbitkan dengan jurnal ini setuju pada persyaratan berikut ini:
Penulis menyimpan hak cipta dan memberikan jurnal hak penerbitan pertama, dengan pekerjaan [TENTUKAN PERIODE WAKTU] setelah penerbitan secara simultan dengan lisensi di bawah:Creative Commons Attribution License yang memudahkan yang lain untuk berbagi karya dengan pengakuan penerbitan awal dan kepenulisan karya di jurnal ini.
Penulis bisa memasukkan ke dalam penyusunan kontraktual tambahan terpisah untuk distribusi non-ekslusif versi kaya terbitan jurnal (contoh: mempostingnya ke repositori institusional atau menerbitkannya dalam sebuah buku), dengan pengakuan penerbitan awalnya di jurnal ini.
Penulis diizinkan dan didorong untuk mem-posting karya mereka online (contoh: di repositori institusional atau di website mereka) sebelum dan selama proses penyerahan, karena dapat mengarahkan ke pertukaran produktif, seperti halnya sitiran yang lebih awal dan lebih hebat dari karya yang diterbitkan. (Lihat Efek Akses Terbuka).