ANALISA DAYA DAN KONTROL KECEPATAN MOTOR PADA ALAT BANTU LAS ROTARY POSITIONER TABLE
Abstract
Rotary Positioner Table is one of the welding aids that are widely used industrial world especially welding with the intention of facilitating welder to work on certain products. As the name implies Positioner which means positioning where the tool in this design can position the welding object freely according to the correct position and comfortable for people who are doing welding. This tool can be applied to drill the hole circle the same distance on the flange, to cut the round pieces , for welding pipes, welding shafts, discs, truck rims, etc.The selection of motor types and speed control becomes very important to support the performance of this tool which is expected to be used for welding with a maximum work load of 100 kg with vertical welding position. For that matter proper analysis is needed to determine the motor power and rotation speed of the turntable in order to get the best welding results. The way this Positioner tool works mechanically by rotating the rotary axis (lever) that has been made, to adjust the angle manually. This positioner can move on the X, Y, and Z axes.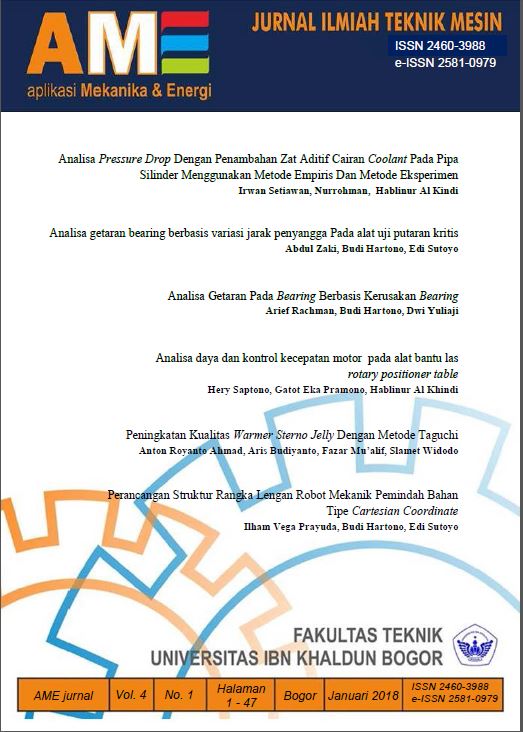 Downloads
How to Cite
Saptono, H., Pramono, G. E., & Khindi, H. A. (2018). ANALISA DAYA DAN KONTROL KECEPATAN MOTOR PADA ALAT BANTU LAS ROTARY POSITIONER TABLE. AME (Aplikasi Mekanika Dan Energi): Jurnal Ilmiah Teknik Mesin, 4(1), 23–33. https://doi.org/10.32832/ame.v4i1.988
License
Penulis yang menerbitkan dengan jurnal ini setuju pada persyaratan berikut ini:
Penulis menyimpan hak cipta dan memberikan jurnal hak penerbitan pertama, dengan pekerjaan [TENTUKAN PERIODE WAKTU] setelah penerbitan secara simultan dengan lisensi di bawah:Creative Commons Attribution License yang memudahkan yang lain untuk berbagi karya dengan pengakuan penerbitan awal dan kepenulisan karya di jurnal ini.
Penulis bisa memasukkan ke dalam penyusunan kontraktual tambahan terpisah untuk distribusi non-ekslusif versi kaya terbitan jurnal (contoh: mempostingnya ke repositori institusional atau menerbitkannya dalam sebuah buku), dengan pengakuan penerbitan awalnya di jurnal ini.
Penulis diizinkan dan didorong untuk mem-posting karya mereka online (contoh: di repositori institusional atau di website mereka) sebelum dan selama proses penyerahan, karena dapat mengarahkan ke pertukaran produktif, seperti halnya sitiran yang lebih awal dan lebih hebat dari karya yang diterbitkan. (Lihat Efek Akses Terbuka).