Budaya Akademik Islami di Universitas Islam Sultan Agung Semarang dalam perspektif islamisasi ilmu
Abstract
The purpose of this study is to describe the concept and application of BUDAI, and analized it in the light of Islamization of science in Unissula Semarang. The method used in this thesis is a qualitative, the main feature of this approach lies in its purpose to describe a case by understanding the meaning and symptoms, by so doing data analysis is descriptive - analytic. The data is gained observation and documentation. The Thesis finds out that BUDAI has two important dimensions, one is to strengthen the aspect of science and technology, and the other is focus on the strengthening the spiritual aspect. The research also shows that the concept and application of BUDAI confirms with the idea of Islamization proposed by Al-Attas and Al-Faruqy, nevertheless the study also finds that many aspects.
Abstrak
Artikel ini bertujuan untuk mendeskripsikan konsep dan aplikasi BUDAI, serta ditinjau dalam perspektif islamisasi ilmu di UNISSULA Semarang. Metode yang digunakan dalam penelitian ini adalah menggunakan metode kualitatif, ciri khas pendekatan ini terletak pada tujuannya untuk mendeskripsikan suatu kasus dengan memahami makna dan gejala, sehingga analisis data yang digunakan adalah deskriptif – analitik. Pengumpulan datanya melalui metode observasi dan dokumentasi. Dari hasil penelitian ini ditemukan bahwa BUDAI memiliki dua unsur utama. Yang pertama penekanan pada aspek IPTEK dan yang kedua pada aspek Ruhiyah. Dan aplikasi BUDAI yang seperti ini sejalan dengan ide islamisasi ilmu pengetahuan seperti yang digagas oleh Al-Attas dan Al-Faruqi. Meskipun demikian masih banyak aspek-aspek dari BUDAI yang perlu ditinjau ulang untuk menjadikan program ini terlaksana dengan baik.
Keywords
BUDAI; Islamisasi; Ilmu; Al-Attas; Al-Faruqi
References
Al-Attas, S. M. N. (1993). Islam and Secularism. International Institute of Islamic Thought and Civilization (ISTAC.
Anwar, R. (2010). Risalah Bismillah Membangun Generasi Khaira Ummah. UNISSULA Press.
Arifianto, H. D. (2008). Strategi dakwah Yayasan Badan Wakaf Sultan Agung Semarang dalam membangun generasi khaira ummah di kampus Unissula. IAIN Walisongo.
Armas, A. (2009). Westernisasi dan Islamisasi Ilmu. Diskusi Pekanan DISC Masjid UI, Depok.
Daud, W. M. N. W. (1998). Filsafat dan Praktik Pendidikan Islam Syed M. Naquib Al-Attas. Mizan.
Djainuri, A. (2001). Pendidikan dan Modernisasi di Dunia Islam. AL-IKHLAS.
Gunawan, A. (2004). Artikulasi Islam Kultural. PT. Raja Grafindo Persada.
Insan, F. (1997). Dasar-Dasar Pendidikan. PT. Rineka Cipta.
Irfan, A., & Murwantono, D. (2018). Islamic Academic Culture (BudAi) Model as A Strategy of Education and Civilization in Sultan Agung Islamic University (UNISSULA) Semarang: Theory and Practice. PROCEEDINGS INTERNATIONAL CONFERENCE BKSPTIS 2018, 0, Article 0.
Maharani, H. R., Ubaidah, N., & Aminudin, M. (2018). Efektifitas Model Concept Attainment ber-Budaya Akademik Islami Berbantuan Pop-Up Book pada Materi Bangun Ruang Sisi Datar. Kreano, Jurnal Matematika Kreatif-Inovatif, 9(1), 100–106.
Nurhamidah, I. (2018). Cross Cultural Understanding and Islamic Academic Values (BudAI) Preservation of the Students upon Graduation from College of Language (FB) Unissula. Dinamika Bahasa Dan Budaya, 13(1), 1–15.
Rohani, A. (2004). Pengelolaan Pengajaran. PT. Mahasatya.
Rosyadi, A. R. (2011). Pendidikan Islam dalam Perspektif Kebijakan Pendidikan Nasional. Universitas Ibn Khaldun.
Sugiarto. (2003). Teknik Samling. Gramedia Pustaka Utama.
Sumirin. (2006). Panduan Calon Mahasiswa Baru tahun 2006/2007. UNISSULA Press.
Supadie, D. A., & Tim BUDAI. (2008). Budaya Akademik Islami. UNISSULA Press.
Tim Pengembangan MKDK IKIP Semarang. (1991). Dasar-dasar Pendidikan. IKIP Semarang.
Tjahjono, A. B., & Tim BUDAI. (2008). Gerakan Budaya Akademik Islami. UNISSULA Press.
Zarkasy, H. F. (2010). Membangun Peradaban Dengan Ilmu. Kalam Ilmu Indonesia.
DOI:
http://dx.doi.org/10.32832/tadibuna.v9i2.3526
Article Metrics
Abstract view : 1865 times
PDF - 2162 times
Refbacks
There are currently no refbacks.
This work is licensed under a
Creative Commons Attribution-ShareAlike 4.0 International License
.
Lantai 1 Gedung Sekolah Pascasarjana Universitas Ibn Khaldun Bogor
Jl. K.H. Sholeh Iskandar km 2 Bogor 16162 Jawa Barat, Indonesia Telp/Fax: 0251-8335335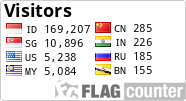 View My Stats