STUDENTS' MOTIVATION IN WRITING CLASS USING OF CANVA: STUDENTS' PERCEPTION
Abstract
This study aims to investigate students' perception of using canva in writing class. This study used a qualitative descriptive approach and the research adapted questionnaire and also an interview to collect the data with ten students' at Senior High School Bingin Teluk. The results of this study indicate that the use of Canva in the writing class has a positive impact on the participants. The positive impact is that Canva can increase students' motivation in writing classes, Canva can improve students' abilities in writing classes and Canva can also help students in writing classes. not only the positive impact that students have, but also obstacles in using Canva such as students having to have more time to design programs using Canva, and Canva has a premium account that we should pay for and there are some pictures which will appear and be provided without watermark.
References
Agusta, D. (2015). Improving Students' Ability in Writing Narrative Texts Using Short Animated Stories at Class VIII C of SMPN 2 Sanden, Bantul in the Academic Year 2013/2014. STATE UNIVERSITY OF YOGYAKARTA, English Education, YOGYAKARTA. Retrieved from http://eprints.uny.ac.id/id/eprint/26574
Ahn, D. T. (2019). EFL Student's Writing Skills: Challenges and Remedies. IOSR Journal of Research & Method in Education, 9(6), 74-84. Retrieved from http://www.iosrjournals.org/
Bai, B., & Guo, W. (2019). Motivation and self-regulated strategy use: Relationships to primary school students' English writing in Hong Kong. Language Teaching Research, 1-22. doi:https://doi.org/10.1177/1362168819859921
Christiana, E., & Anwar, K. (2021). The Perception of Using Technology CanvaApplication as a Media for English Teacher Creating Media Virtual Teaching and English Learning in Loei Thailand. Journal of English Teaching, Literature, and Applied Linguistics, 5(1). doi:http://dx.doi.org/10.30587/jetlal.v5i1.2253
Guo, W., & Bai, B. (2019). Effects of self-regulated learning strategy useon motivation in EFL writing: A comparisonbetween high and low achievers in Hong Kongprimary schools. Applied Linguistics Review. doi:https://doi.org/10.1515/applirev-2018-0085
Hidayati, K. H. (2018). Teaching Writing to EFL Learners: An Investigation of Challenges Confronted by Indonesian Teachers. Journal of the Association for Arabic and English, 4(1). doi:http://dx.doi.org/10.31332/
Hosseini, M., Taghizadeh, M. E., Abedin, M. J., & Naser, E. (2013). In the Importance of EFL Learners' writing Skill: Is there any Relation between Writing Skill and. International Letters of Social and Humanistic Sciences, 6, 1-16. doi:https://doi.org/10.18052/www.scipress.com/ILSHS.6.1
Indrawati, N. (2019). A DESCRIPTIVE STUDY ON STUDENTS' PROBLEMS IN ENGLISH TEACHING AND LEARNING ON SPEAKING SKILL AT JUNIOR HIGH SCHOOL. MUHAMMDIYAH UNIVERSITY OF MAKASSAR, English Education, Makasar.
Irwan, A. F., Syafei, A. R., & Marlina, L. (2018). STUDENTS' ABILITY IN WRITING AN ANALYTICAL EXPOSITION TEXT AT ENGLISH DEPARTMENT OF UNIVERSITAS NEGERI PADANG. Journal of English Language Teaching, 7(1). Retrieved from http://ejournal.unp.ac.id/index.php/jelt
Kitjaroonchai, N. (2012). Motivation toward English language learning of students in secondary and high schools in education service area office 4, Saraburi Province, Thailand. International Journal of Language and Linguistics, 1(1), 22-33. doi:doi: 10.11648/j.ijll.20130101.14
Lathif, M. (2017). INVESTIGATING NON-ENGLISH DEPARTMENT STUDENTS' MOTIVATION IN EFL WRITING. International Journal of Indonesian Education and Teaching, 1(1).
Lee, I., Yu, S., & Liu , Y. (2017). Hong Kong Secondary Students' Motivation in EFL Writing: A Survey Study. TESOL International Association. doi:doi: 10.1002/tesq.364
Legault, L. (2016). Intrinsic and Extrinsic Motivation. Springer International Publishing. doi:DOI 10.1007/978-3-319-28099-8_1139-1
Liu, Y., Hau, K. T., Liu, H., Wu, J., & Wang, X. (2019). Multiplicative effect of intrinsic and extrinsic motivation on academic performance: A longitudinal study of Chinese students. Journal of Personality. doi:DOI: 10.1111/jopy.12512
Maamuujav, U., Krishnan, J., & Collins, P. (2019). The utility of infographics in L2 writing classes: A practical strategy to scaffold writing development. TESOL International Association. doi:https://doi.org/10.1002/tesj.484
Naparin, H., & Saad, A. B. (2017). INFOGRAPHICS IN EDUCATION: REVIEW ON INFOGRAPHICS DESIGN. The International Journal of Multimedia & Its Applications , 9. doi:DOI: 10.5121/ijma.2017.9602
Nassaji, H. (2015). Qualitative and descriptive research: Data type versus data analysis. Language Teaching Research, 19(2), 129–132. doi:DOI: 10.1177/1362168815572747
Ng, C. F., & Ng, P. K. (2015). A Review of Intrinsic and Extrinsic Motivations of ESL Learners. International Journal of Languages, Literature and Linguistics, 1(2). doi:DOI: 10.7763/IJLLL.2015.V1.20
Oletić, A., & Ilić, N. (2014). Intrinsic and Extrinsic Motivation for Learning English as a Foreign Language. ELTA Journal, 2(2). Retrieved from http://www.eltajournal.org.rs/
Pazilah, F. N., & Hashim, H. (2018). Using infographics as a technology-based tool to develop 21st century skills in an ESL context. Journal of Educational and Learning Studies, 1(1), 35-38. doi:https://doi.org/10.32698/0242
Rahim, N. N., Khidzir, N. Z., Yusof, A. M., & Saidin, A. Z. (2016). An Assessment of Quality on Animated Infographics in an Islamic Context. International Conference on Teaching and Learning in Education.
Siricharoen, w. V. (2015). nfographic Role in Helping Communication for Promoting health and well-being.
Thohir, L. (2017). Motivation in a Foreign Language Teaching and Learning. JOURNAL FOR LANGUAGE AND FOREIGN LANGUAGE LEARNING, 6(1), 20-28. doi:http://dx.doi.org/10.21580/vjv6i11580
Wati, M., & Miftah, M. Z. (2018). The effect of Think Pair Share towards writing ability and learning The effect of Think Pair Share towards writing ability and learning. International Conference on English Language Teaching. Retrieved from http://e-proceedings.iain-palangkaraya.ac.id/index.php/inacelt
Yusuf, Q., Jusoh, Z., & Yusuf, Y. Q. (2019). Cooperative Learning Strategies to Enhance Writing Skills among Second Language Learners. International Journal of Instruction, 12(1), 1399-1412.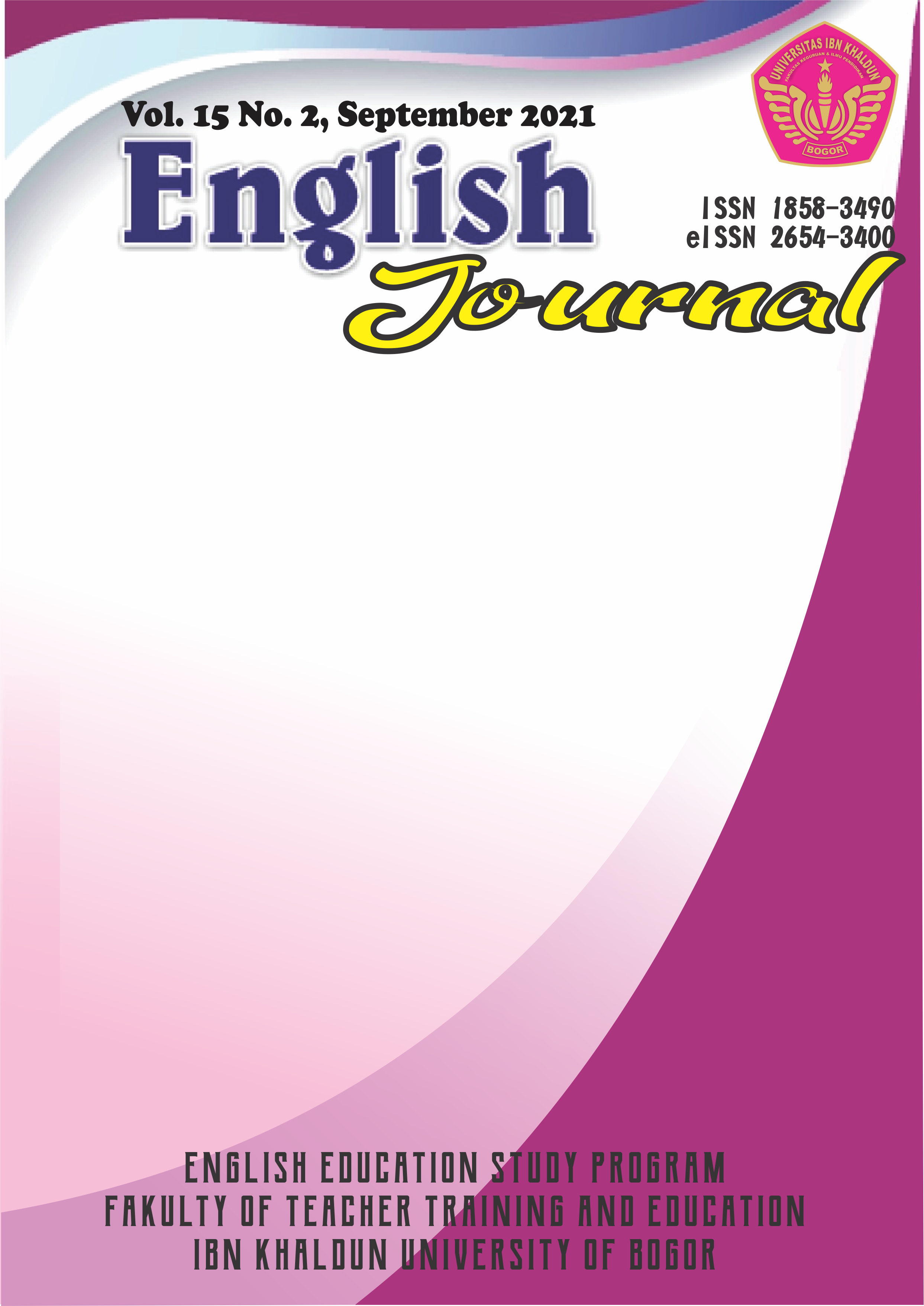 Downloads
How to Cite
Utami, Y., & Suriyani Djamdjuri, D. (2021). STUDENTS' MOTIVATION IN WRITING CLASS USING OF CANVA: STUDENTS' PERCEPTION. ENGLISH JOURNAL, 15(2), 83–92. https://doi.org/10.32832/english.v15i2.5536