Penanaman karakter keagamaan peserta didik melalui pembelajaran sentra di RA Rahmatillah Sidoarjo
Abstract
This research is aimed to describe the character planting of early childhood through center learning. This qualitative research uses a phenomenological approach. Data collection was carried out by observation, in-depth interviews and documentation. Data analysis was performed through reduction, display and drawing conclusions. To ensure the reliability of the data obtained, observation extension and triangulation were carried out. The results showed that: (1) The application of center learning succeeded in instilling and shaping the religious character of children. (2) Indication of success can be seen from the attitudes and behavior of students who show akhlakul karimah, as well as the satisfaction of guardians in seeing the attitudes and behavior of their children who begin to develop perfectly. (3) The success of center learning in instilling religious character is supported by the provision of complete play facilities and the ability of teachers to carry out the center learning process. While the inhibiting factor is the children are still experiencing the adaptation process, because center learning is a new learning model in Raudlatul Athfal.
Abstrak
Penelitian ini bertujuan untuk menggambarkan penanaman karakter anak usia dini melalui pembelajaran sentra.. Penelitian kualitatif ini menggunakan pendekatan fenomenologi. Pengumpulan data dilakukan dengan observasi, wawancara mendalam dan dokumentasi. Analisis data dilakukan melalui reduksi, display dan mengambil kesimpulan. Untuk menjamin reliabilitas data yang diperoleh dilakukan perpanjangan pengamatan dan triangulasi. Hasil penelitian menunjukkan bahwa: (1) Penerapan pembelajaran sentra berhasil menanamkan dan membentuk karakter keagamaan anak. (2) Indikasi keberhasilan bisa dilihat dari sikap dan perilaku peserta didik yang menunjukkan akhlakul karimah, serta kepuasan wali murid dalam melihat sikap dan perilaku putra-putrinya yang mulai berkembang secara sempurna. (3) Keberhasilan pembelajaran sentra dalam menanamkan karakter keagamaan didukung oleh penyediaan fasilitas bermain yang lengkap dan kemampuan guru dalam menyelenggarakan proses pembelajaran sentra. Sedangkan faktor penghambatnya adalah anak-anak masih mengalami proses adaptasi, karena pembelajaran sentra merupakan model pembelajaran yang baru di Raudlatul Athfal ini.
Keywords
fasilitas bermain; kemampuan guru; karakter keagamaan; pembelajaran sentra
References
Anshori, I. (2007). Standar Kualitas Guru Masa Depan. Khazanah, 13(9), 4.
Anshori, I. (2017). Penguatan Pendidikan Karakter di Madrasah. HALAQA: Islamic Education Journal, 1(2), 11–22.
Anshori, I. (2018a). Melacak State Of The Art Fenomenologi dalam Kajian Ilmu-Ilmu Sosial. HALAQA: Islamic Education Journal, 2(2), 165–181.
Anshori, I. (2018b). Penerapan Nilai Budaya Kerja: Peluang dan Tantangan bagi Peningkatan Kinerja Madrasah. Cendekia, 2(3), 191.
Anshori, I. (2020). Study of Structuralism, Post-Structuralism and Network Actors and Their Relevance to Islamic Education. HALAQA: Islamic Education Journal, 4(1), 19–20.
Anshori, I., Sahara, & Elvina, E. (2020). Internationalization of Islamic Education Institutional Characters Through The English Acculturation Strategy. Humanities & Social Sciences Reviews, 8(5), 140–157.
Fauzi, C., & Basikin. (2020). The Impact of the Whole Language Approach Towards Children Early Reading and Writing in English. JPUD - Jurnal Pendidikan Usia Dini, 14(1), 87–101.
Hasanah, I. (2012). Implementasi Pendekatan Sentra dan Lingkaran (Beyond Center and Circle Time) dalam Penanaman Nilai-nilai Pendidikan Islam di KBIT Insan Kamil Cirebon Kecamatan Sideraja tahun ajaran 2011/2012 [Skripsi, IAIN Purwokerto]. http://repository.iainpurwokerto.ac.id/672/
Jafar, F. S. (2018). Penerapan Model Pembelajaran Sentra Dalam Pengembangan Kecerdasan Bahasa Ekspresif Anak Usia Dini. Jurnal Psikologi, 4(1), 57–60.
Jalil, N. (2019). Peran Sentra Iman dan Taqwa dalam Menanamkan Keimanan pada Anak Usia Dini. Jurnal Pendidikan dan Pemikiran Islam, 6(2), 1–10.
Komalasari, K. (2017). Pendidikan Karakter. Refika Aditama.
Pramitasary, R. N., Anshori, I., & Hariyanto, B. (2020). The Effectiveness of Choosing Language Diction by the Principal in Managing Islamic Education Institutions (Jacques Derrida's perspective). Proceeding of The ICECRS, Conference of Islamic Educational Payment Management in Industrial Revolution, 4(0), 1–10.
Purwanto, I. (2019). Upaya Meningkatkan Kompetensi Guru Sasaran Dalam Penyusunan RPP Yang Baik Dan Benar Sesuai Kurikulum 2013 (Kurtilas) Semester Satu Tahun Pelajaran 2018/2019 Di SMP Negeri 9 Mataram Melalui Pendampingan Berbasis MGMP. Jurnal Ilmu Sosial Dan Pendidikan, 3(1), 65–66.
Putri, A. A., & Suparno. (2020). Recognize Geometry Shapes through Computer Learning in Early Math Skills. JPUD - Jurnal Pendidikan Usia Dini, 14(1), 43–57.
Ryan, K., & Bohlin, K. E. (1999). Building Character in Schools: Practical Ways To Bring Moral Instruction to Life. Jossey-Bass Inc.
Saguni, F. (2019). Implementasi Model Pembelajaran Sentra Bermain Peran untuk Meningkatkan Hubungan Interpersonal Anak di Kelompok A1 dan B3 TK Alkhairaat I Pusat Palu. Jurnal Pendidikan Anak, 1(1), 20–30.
Sasmita, D. (2018). Implementasi Metode Pembelajaran Sentra dan Waktu Lingkaran Pada Pembelajaran Kelompok B di PAUD Terpadu Widya Mandala Bondowoso Tahun Pelajaran 2017/2018. Repository Universitas Jember.
Sidiq, U. (2019). Metode Penelitian Kulaitatif di Bidang Pendidikan. CV Nata Karya.
Tatminingsih, S. (2019). Alternatif Stimulasi Kemampuan Kognitif melalui Penerapan Model Pembelajaran Berbasis Permainan Komprehensif. Jurnal Pendidikan Anak Usia Dini, 3(1), 117–120.
Wilyanita, N. (2018). Analisis Pemilihan Media Pembelajaran Sentra Imtaq di TK Negeri Pembina 3 Pekanbaru. Journal of Islamic Childhood Education, 1(2).
DOI:
http://dx.doi.org/10.32832/tadibuna.v9i2.3110
Article Metrics
Abstract view : 1309 times
PDF - 1033 times
Refbacks
There are currently no refbacks.
This work is licensed under a
Creative Commons Attribution-ShareAlike 4.0 International License
.
Lantai 1 Gedung Sekolah Pascasarjana Universitas Ibn Khaldun Bogor
Jl. K.H. Sholeh Iskandar km 2 Bogor 16162 Jawa Barat, Indonesia Telp/Fax: 0251-8335335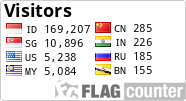 View My Stats