Konsep dan Sistem Pendidikan Islam
Abstract
Definition of curriculum of education (manhaj al-dirasah) in Tarbiyah Dictionary is a set of planning tools and media that used by educational institutions in achieving education goals. Curriculum making in lslamic education principles must citated lo education goals. Ingredients of Subjects that programmed by educators should support education goals and not the other way, the goals of education followed subject ingredients.
Keywords
System; Concept; Education; Islam; Curriculum
DOI:
http://dx.doi.org/10.32832/tadibuna.v1i1.436
Article Metrics
Abstract view : 562 times
Refbacks
There are currently no refbacks.
This work is licensed under a
Creative Commons Attribution-ShareAlike 4.0 International License
.
Lantai 1 Gedung Sekolah Pascasarjana Universitas Ibn Khaldun Bogor
Jl. K.H. Sholeh Iskandar km 2 Bogor 16162 Jawa Barat, Indonesia Telp/Fax: 0251-8335335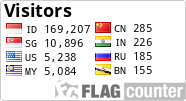 View My Stats