Memahami Makna Nafs, Aql, dan Qalb
Abstract
There are meanings of nafs (soul): first is nafs sawiyah mullahamah, a soul which emphasizes on the meaning of the potential of man; second, nafs Alammarah which has negative inclination, and third, nafs al-rnuthmainnah; it is a soul which gets bless from Allah swt. 'Aql in the Qur'an denotes an ability of reasoning like thinking (tafakkur), observing (nadzara), interpreting (i'tibar), meditating (tadabbur), reflecting (ta'ammul), deep insight (istibsar), remembering (tadzakkur), etc. Based on several Qur'anic verses, we can find that qalb means an instrument to comprehend reality and values.
Keywords
nafs; aql; qalb; al Qur'an.
DOI:
http://dx.doi.org/10.32832/tadibuna.v1i2.578
Article Metrics
Abstract view : 220 times
Refbacks
There are currently no refbacks.
This work is licensed under a
Creative Commons Attribution-ShareAlike 4.0 International License
.
Lantai 1 Gedung Sekolah Pascasarjana Universitas Ibn Khaldun Bogor
Jl. K.H. Sholeh Iskandar km 2 Bogor 16162 Jawa Barat, Indonesia Telp/Fax: 0251-8335335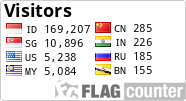 View My Stats